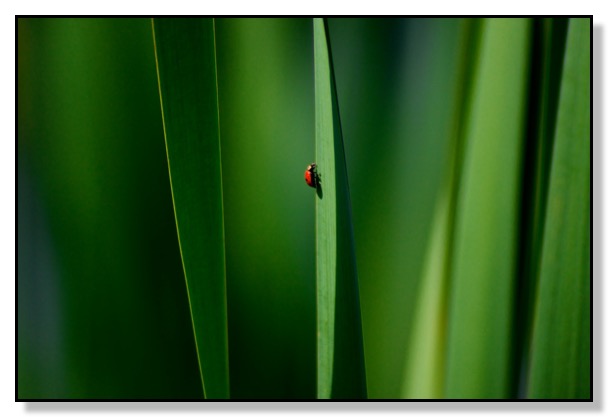 Cattails and Ladybug:
ISO 800, 400mm, f/6.7, 1/1500
Without the Ladybug would you know what this is an image of?
I took this shot in August when I did a photowalk at a local park in Red Deer, Alberta. Bower Ponds is about a 5 minute drive from my backyard.
The ladybug is not as sharp in focus as I would have liked but she was moving at a brisk pace. As I had my long telephoto lens on and no time to set up the tripod I had to turn up the ISO to get a fast enough shutter speed to capture her.
The ladybug is a small part of the photo in my opinion. I think my eyes are drawn more to the pattern of the cattail grass and the way the sun creates definition and shadows on their blades. The ladybug just puts things in perspective and gives you a hint of what the actual pattern is made up of.