29/06/19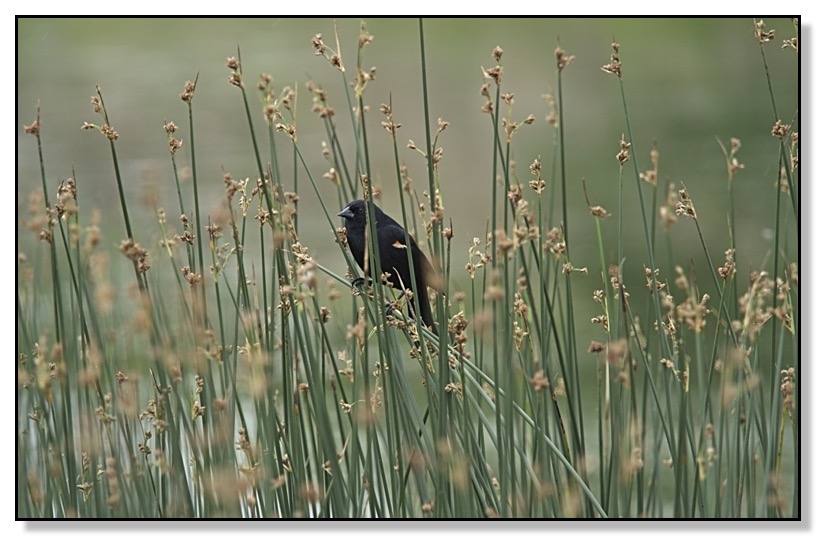 Red Wing Blackbird
:
ISO 320, 210mm, f/4.0, 1/320
Spotted this Male Red Winged Blackbird at Elizabeth Hall Wetland Nature Reserve in Lethbridge, Alberta pretty easily as he was trying to catch my attention as I moved closer to the marsh.
He must have been protecting a nest nearby because he was causing a loud distraction.
A couple of females were also flying around. They were probably busy gathering food for their young.
19/02/12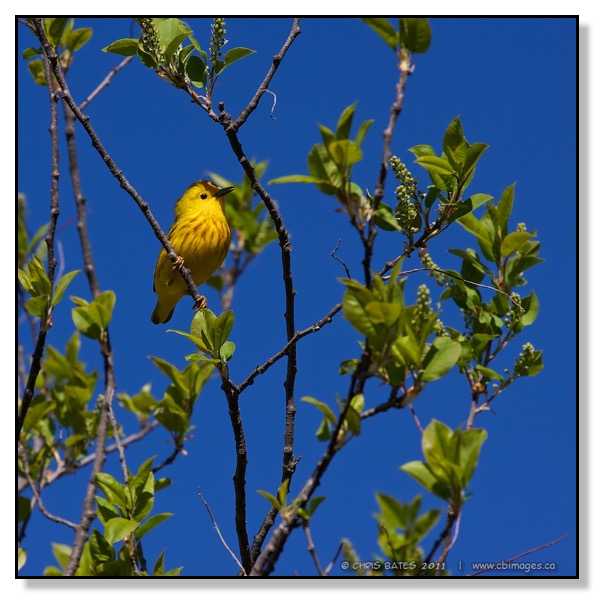 Yellow Warbler:
ISO 200, 200mm, f/8.0, 1/750
Waiting for spring to arrive. This yellow warbler was captured last spring at the Kerry Wood Nature Centre, Red Deer, Alberta during one of my nature walks.
07/07/11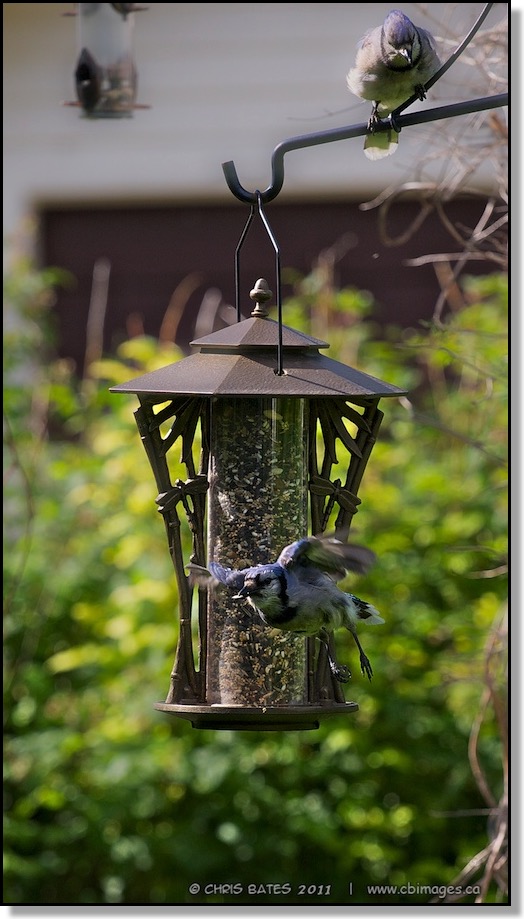 \
Pair of Theives
:
ISO 400, 163mm, f/4, 1/1500
07/07/11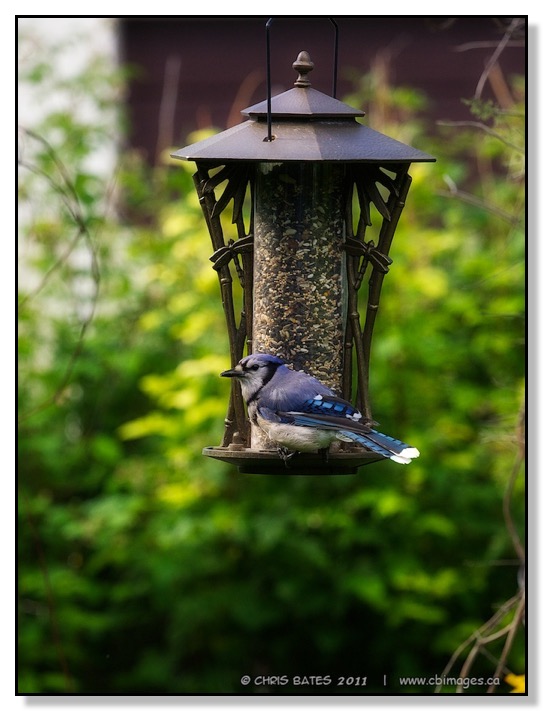 Mine, All Mine
:
ISO 400, 163mm, f/4, 1/1000
We bought a new type of seed that supposedly attracts more types of birds to the feeder. The only problem is it that it is attracting Crows and Magpies which in turn scare away the smaller more colourful birds that I want to attract.
I was sitting on our deck and noticed a pair of Blue Jays (Not from Toronto) flying to the feeder to find some food. They are not so scared of the Magpies and Crows.
The Jays are kind of like dogs with their bones. They tend to hide their food for consumption later on. In the spring when cleaning out the eaves trough or replanting our planter boxes it is common to find peanuts hidden amongst the dirt/compost. Not sure how they remember where they hid it.
25/06/11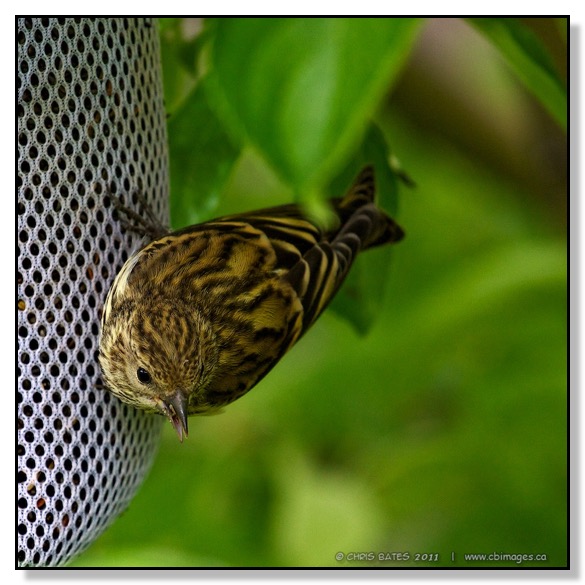 Pine Siskin:
ISO 800, 200mm, f/5.6, 1/125
I have placed Nyger seed feeder sacs in our crab apple tree in hopes of luring goldfinches. When I noticed these birds enjoying the seed I thought I finally attracted female goldfinches.
Turns out this is a Pine Siskin. They seem to be getting used to me as I was able to get quite close to them without scaring them off.
What's for Supper?
12/05/10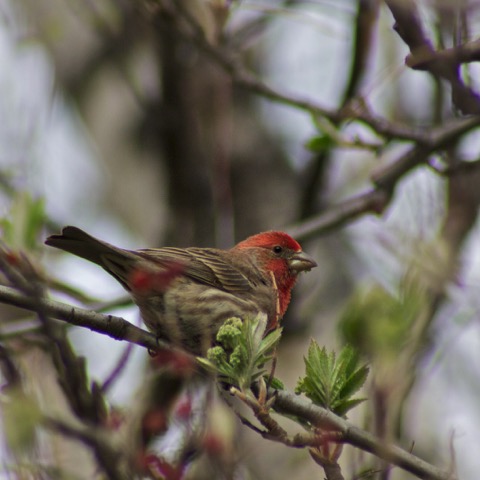 Purple Finch: ISO 400, 400mm, f/8, 1/250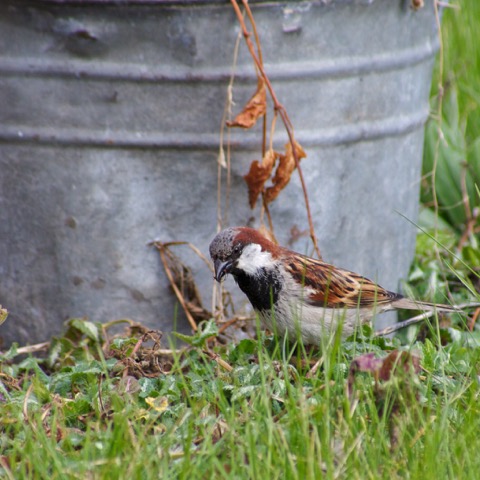 House Sparrow: ISO 400, 320mm, f/8, 1/180
The snow is gone from the yard. There is still some patches of snow in the region but the weather is finally warming again. The May Long Weekend is fast approaching and we should be able to say goodbye to winter for awhile.
The bird activity in the backyard is still pretty busy. Been watching the crows carry nest building materials to the neighbours pine tree. The sparrows and finches are busy feeding on whatever they can find.
Two nights ago I took the camera out to watch the House Sparrows forage for food on the ground. From the image above it looks like they are finding little bugs to eat. As the temperature at the time was in the mid teens the bugs were probably coming out of hiding to warm up.
As I was calling it a night I headed back to the house and spotted some Purple Finches high in the Mountain Ash tree feeding.
I wasn't sure the shots I took would turn out as I had the heavy zoom on and had to point it upwards through tree branches without a tripod. So I was fearful of blurry out of focus shots. I managed to get a few good images.
The top picture shows that the trees are finally starting to leaf. In a couple of weeks it will be nearly impossible to get this shot as I would have to shoot through leaves and branches.
Happy Song
10/09/09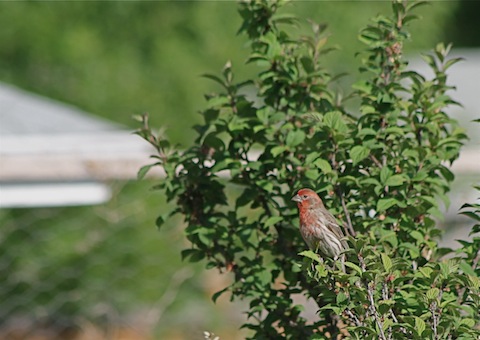 This House Finch has frequented our yard the past few years. He usually does his unmistakable song in the late afternoon from high atop the trees.
A Bird in Hand
03/09/09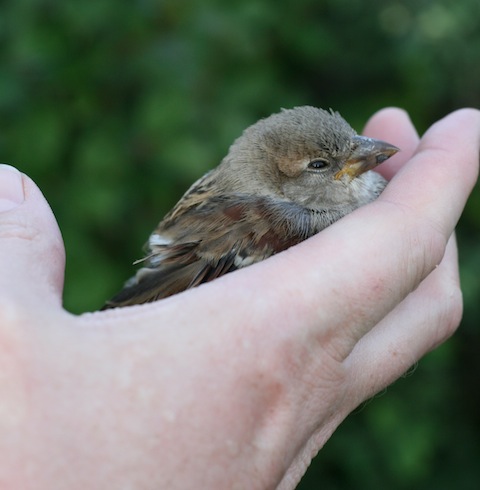 I was watering the garden last night due to the extreme heat the last couple of days.
Yes, extreme heat in September in Alberta. I will try to enjoy it while it lasts.
I noticed this House Sparrow was caught in the neighbour's lawn ornament and couldn't move. I had to help it out and looked like it was in pretty rough shape. Her feet wouldn't grab hold of anything and she wasn't struggling as I held her. A few minutes later one of her feet wanted to hold on and she fluttered from my hands a few times and landed softly on the ground. I hid her under our apple tree in the dense vegetation so the neighbourhood cats wouldn't spot her easily. I think the bird was in shock and pretty tired from trying to escape her trap.
Just as I Feared
05/08/09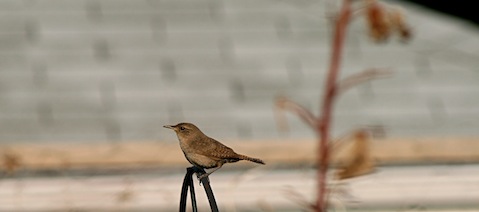 I have not seen the Wren and her newest addition to her family since late last week. It's so sad when they leave the nest.
This is one of the final shots I have got of the mother Wren.
Goldfinch Spotted
31/07/09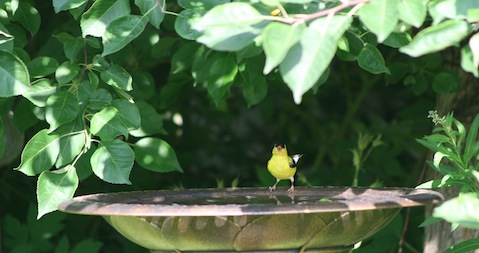 When I travelled back home to Lakefield in June my Dad taught me some tricks to lure Goldfinch to the backyard. This is one that frequents our feeder and birdbath during the day. I hid the feeder in our crabapple tree and the birdbath is almost directly below it.
It took a few weeks before I actually seen Goldfinch come to our backyard after placing the feeder.
Look at Me
30/07/09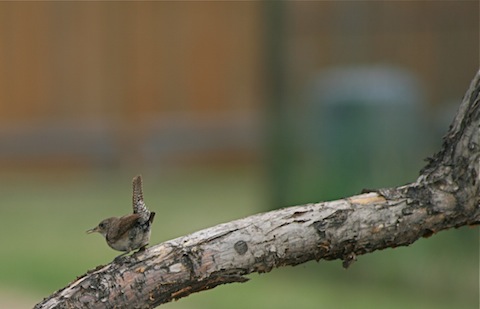 I wasn't giving up with the Wren. I have spent the last couple of days trying to get more Wren shots as who knows how long the Baby Wren will call our backyard brush a safe harbour from the neighbourhood cats. I was trying to get photos of the baby last night and I was getting to close and she did fly a few feet into our crabapple tree.
This shot is of Mom trying to get my attention and at the same time looking for more bugs to feed Baby.
Feeding Time
27/07/09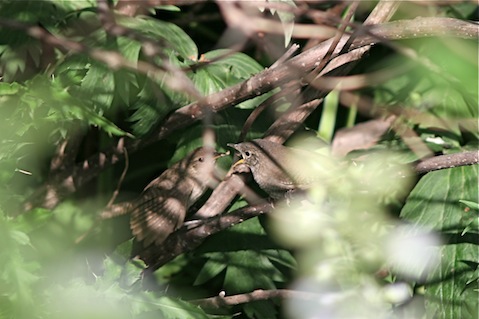 The last few days we have had an agitated wren flying around the yard. I found out why this afternoon. She was creating a diversion so that we would not spot her baby.
This shot isn't the greatest but I had to be quick to get the moment. I wish I had the tripod handy as the light was the best I was ever going to get.
Baby Magpie
29/06/09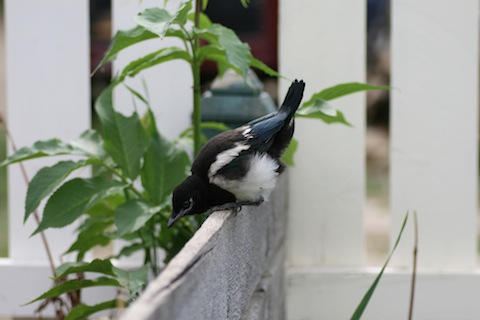 Got home from work one afternoon and was lucky to spot a baby magpie learning to fly. He was sitting on the fence of our compost heap. I was able to get within arms reach to take some good shots.
Those not familiar to these birds they may look pretty but they do make for some annoying alarm clocks in the early morning as well as scare and destroy pretty songbirds that share their territory.
Nothing Like a Cold Shower
23/06/09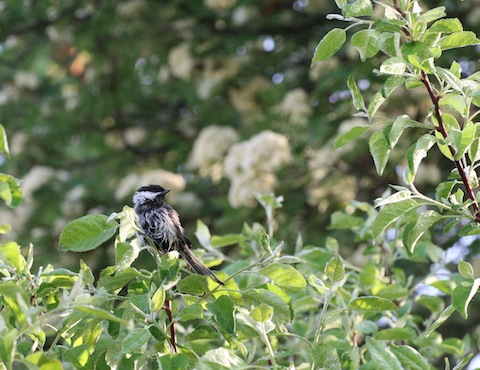 Well summer is here and it is abnormally dry here this year. So that means we water the gardens a little more.
One morning I was watering and heard what sounded like a couple of birds fighting (or whatever else birds might do) in our crabapple tree. Turns out it was one chickadee taking a shower in the freshly sprinkled crab apple leaves. I think I made his day!
Watch My Back
16/06/09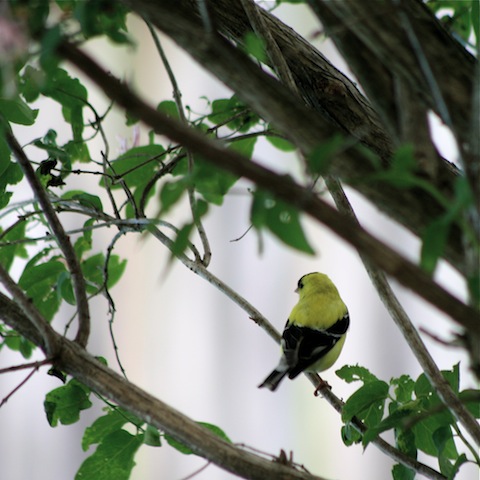 Another picture from my Parent's backyard. They have a nyjer seed feeder which the finches congregate and pig out. I set up the camera and tripod in various positions around the feeder hoping to get some good shots of them perching on nearby plants/trees.
Great Holiday
12/06/09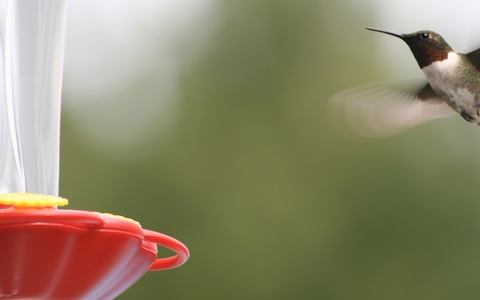 Just got back from visiting my family back in Ontario. This is another picture not from my Red Deer backyard but about a decade and a half ago it was my Ontario backyard.
Mom and Dad have a hummingbird feeder set up on their dining room bay window. I sat and watched for hours the steady stream of what I think was four hummingbirds come in for refueling.