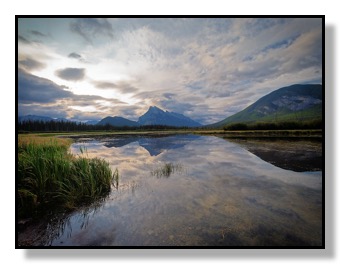 Vermillion Lakes Sunrise, Banff National Park
:
ISO 400, 7mm, f/3.5, 1/1600
Took this image one morning last summer before all the tourists were awake. It was very peaceful. A summer storm was forecasted for later that morning. I was capturing the dramatic sky and the beginning of this storm.
Shovel at Sunrise:
ISO 400, 50mm, f/6.3, 1/30
Took this a couple of mornings ago. Sun was over the horizon and breaking through our neighbour's trees.
This is a Virginia Creeper surrounding a shovel. We have been using the shovel to dig up fresh potatoes.